Welcome to the very first Blog Post Of Many Hi, My Name is Marquise and I am 29 years Old. I thought I would introduce myself because this site is a huge part of my life...if not the largest part of my life ( Besides our God of course...I'm very into My/Our God and Biblical learning).  I love LOVE LOVE making jewelry and as of the last couple years, I have been too ill to work a steady job and so I have been trying my hardest to find a way to help my husband who is a truck driver and so he doesn't make all that much money but this....this site...to me isn't all about the money.  It's an outlet for me to be me.  It's a place where I can be free to do what I do and express myself freely.  No boundaries.  No rules.  No cages....cagefree is great.  Right now, I am on the road with my husband because I was having a hard time being productive and being sick alone in a dark apartment at the same time.  I made the following piece which is a Moonstone Pendant wrapped in Silver for my wonderful Husband Ogede AKA Malicious Melodys (Check him out on SoundCloud as well as FB)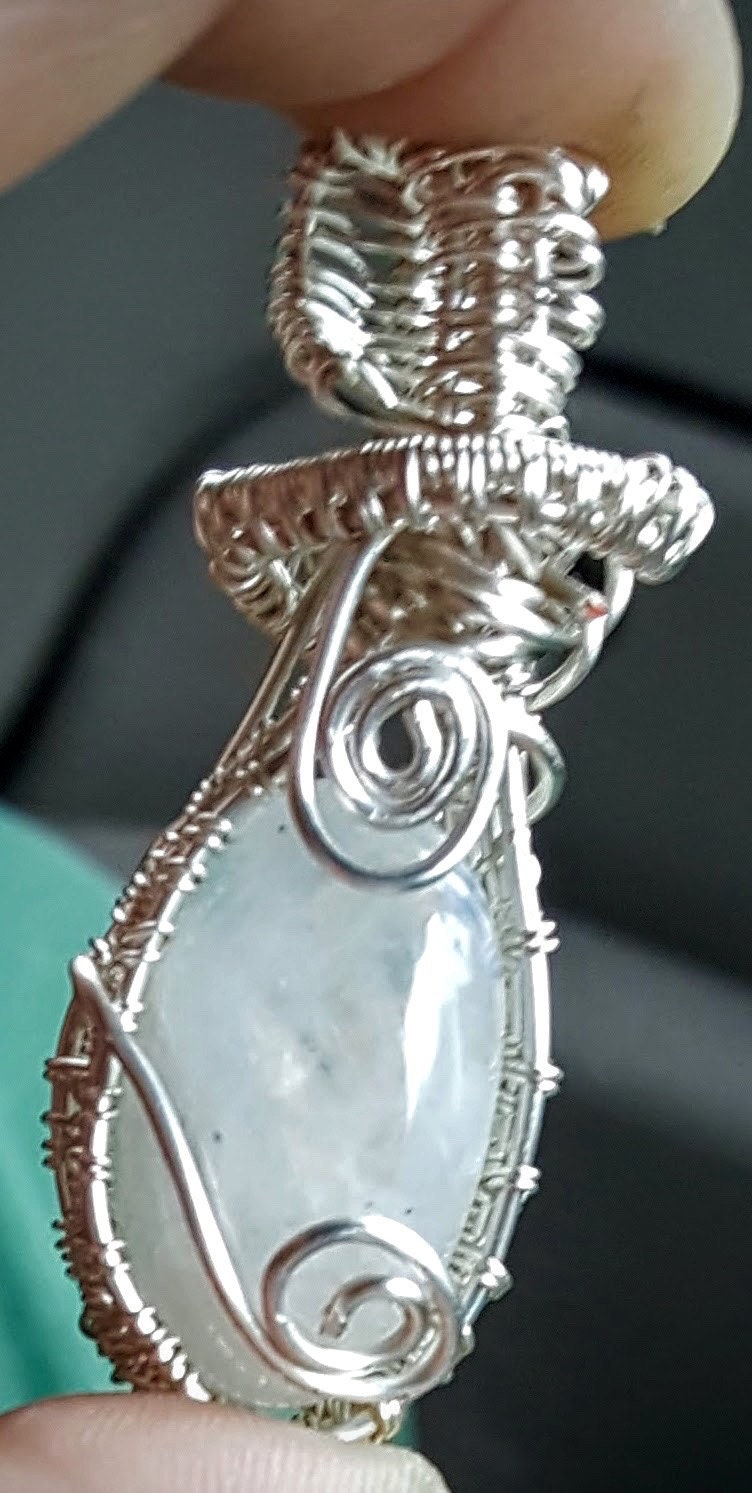 So...Marquise why have you not done what you wanted to do in the past 3 years?
As rough as it is to admit it....  At the moment I am in the process of healing from a terminal illness that was pretty much eating away at my insides but now it is under control for the first time in my life. I, as well as everyone else in my life has been shocked but that is why God is amazing.  He took me from a terminally ill 20-something year old....to someone who is going to live forever! ; )  
Ok so my health is back to normal.  The reason that I tell you guys that is because I have been on Etsy since 2014 and during the past 3 years so much has gone on that I have not been able to make my site what I'd always hoped it would be like in these 3 years.
So...Marquise....Tell us about the title of your blog...
The title of my blog is what I chose to be  '"Facets" : A Monthly- Faceted Handcut Blog By Marquise' because most people mispronounce my name. They call me Mar-Kee as opposed to Maur-Keeyz more with a sharper french accent.  Also people mistake my name to be some sort of American Masculine name when in all reality my name is really a super feminime and elegant name.  
Most people don't know what my name means so I kinda put the meaning of my name into the title of the blog.  Marquise is the cut of a diamond.   Here is a link to a site that is a little more educational about the meaning of my name because I never claimed to be the best writer so I will let this site tell you a little better than I ever could: http://www.lumeradiamonds.com/diamond-education/marquise-diamond
One thing relevant to the title: Facets---considering that Marquise Cut Diamonds have many facets I just did a play on words using "Monthly Faceted" intead of "Multi Faceted" and also "Hand cut" referring to the fact that a Marquise Diamond is a hand crafted work of art....so then is this blog because it is just free style written...no sort of layout to follow..no editing...this is straight thrown down from my heart and soul, blood, sweat and tears.
 One more thing about this blog....I am going to have a section at the end of every month that is called; "Collateral Damage"  and it is going to be the best wrap that I ruined in the month past or just a randomed picked one and I will tell you a little about that wrap that has been taken apart by the time you read it. 
My Very tired Left Eye......; )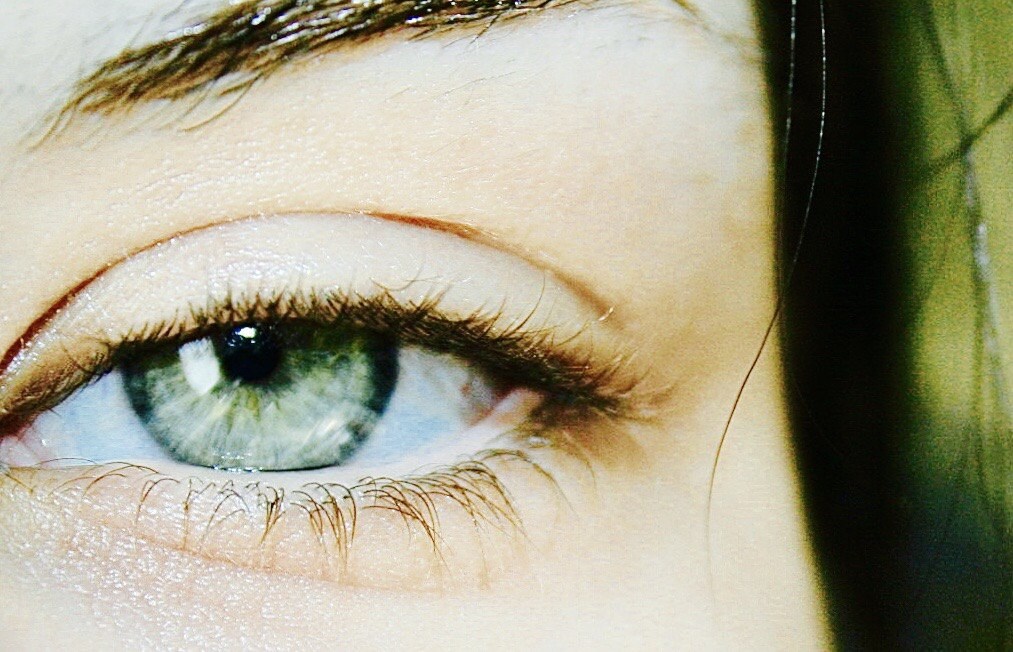 Marquise, What are you working on now considering your health has been getting back to normal?
Well, I have been moving around alot lately because of our home situation we have been moving from one apartment to the next.  I also went down to Florida to visit my mom and pops for a good month this past December so my "studio" has consisted of a box of tools, a box of gems, a box of wire, and sometimes I have taken my beads as well as my mini- light box photo studio out of storage.  
Soon, I will have a stable place to really build my studio and get some real work done but until then I have been on and off the road working on my site as well as posting new items.
Marquise, Why aren't there many items posted on your site for sale right now?
The answer to this question is a combination of what I had written in the above paragraphs.
Also, I was not satisfiesd with the way my shop looked when I had my health returned to me that I took the whole thing down and started from scratch.  
I put my site on vacation mode for a good 5 months so that I could just spend that time making items for my new shop.  
Very recently I took my shop off of vacation mode and I started taking pictures of the items that I made  during that vacation mode time.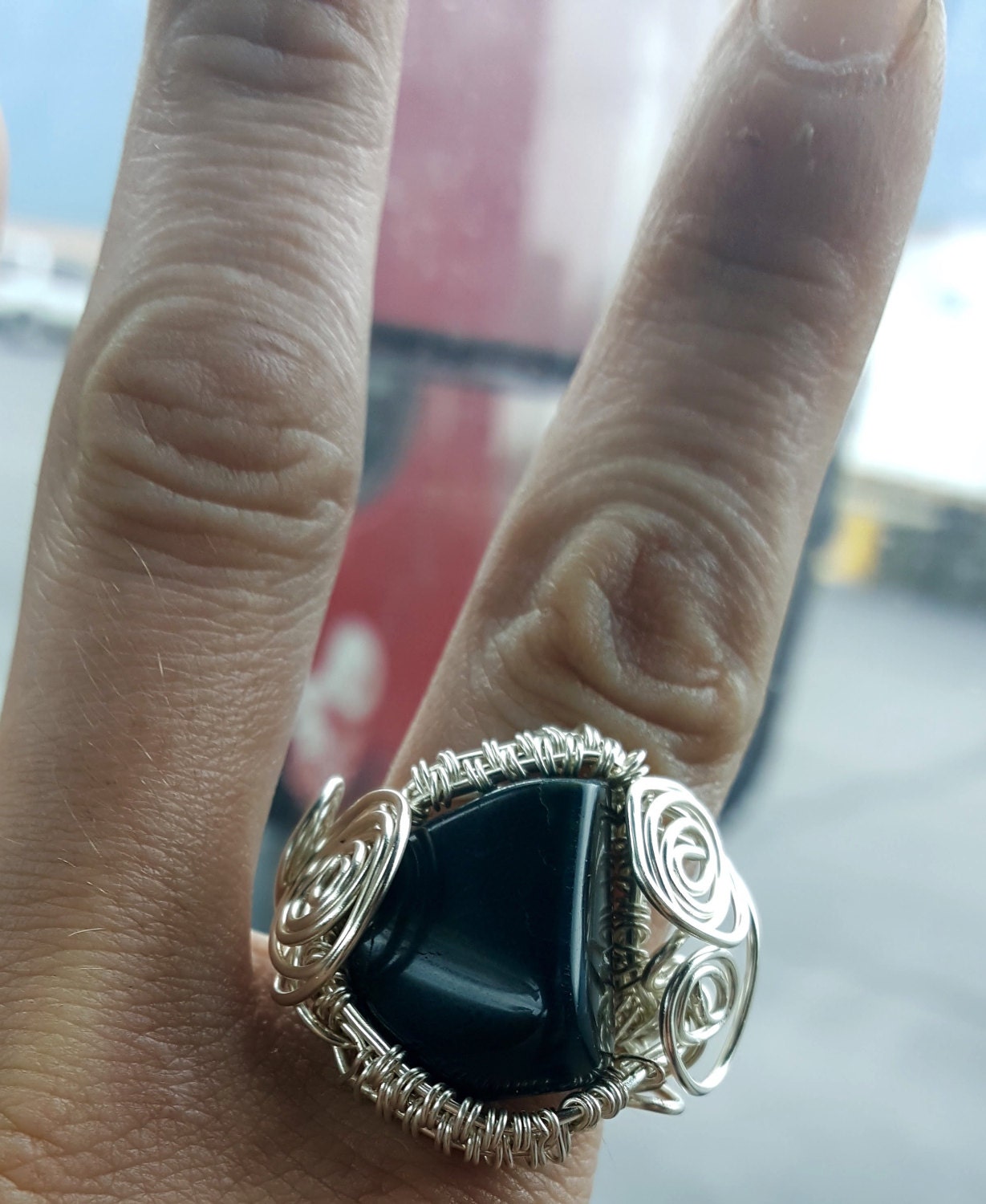 What are you working on now?  What should I expect to see in the near future with www.MarquiseJewelry.com?  
New items are being posted daily now that THE HOLIDAYS ARE FINALLY OVER! WHOO!!
Pictures are being edited. 
I have 40 plus items that are going to be posted as soon as humanly possible. 
I have a new section in addition to my usual rings, bracelets, necklaces, etc....the new title of the new section is called "Antique Jewelry" and all of this stuff is hand picked amazingly cute and/or elegant stuff that I have been putting together for a good while to make a section for this fantastic vintage stuff.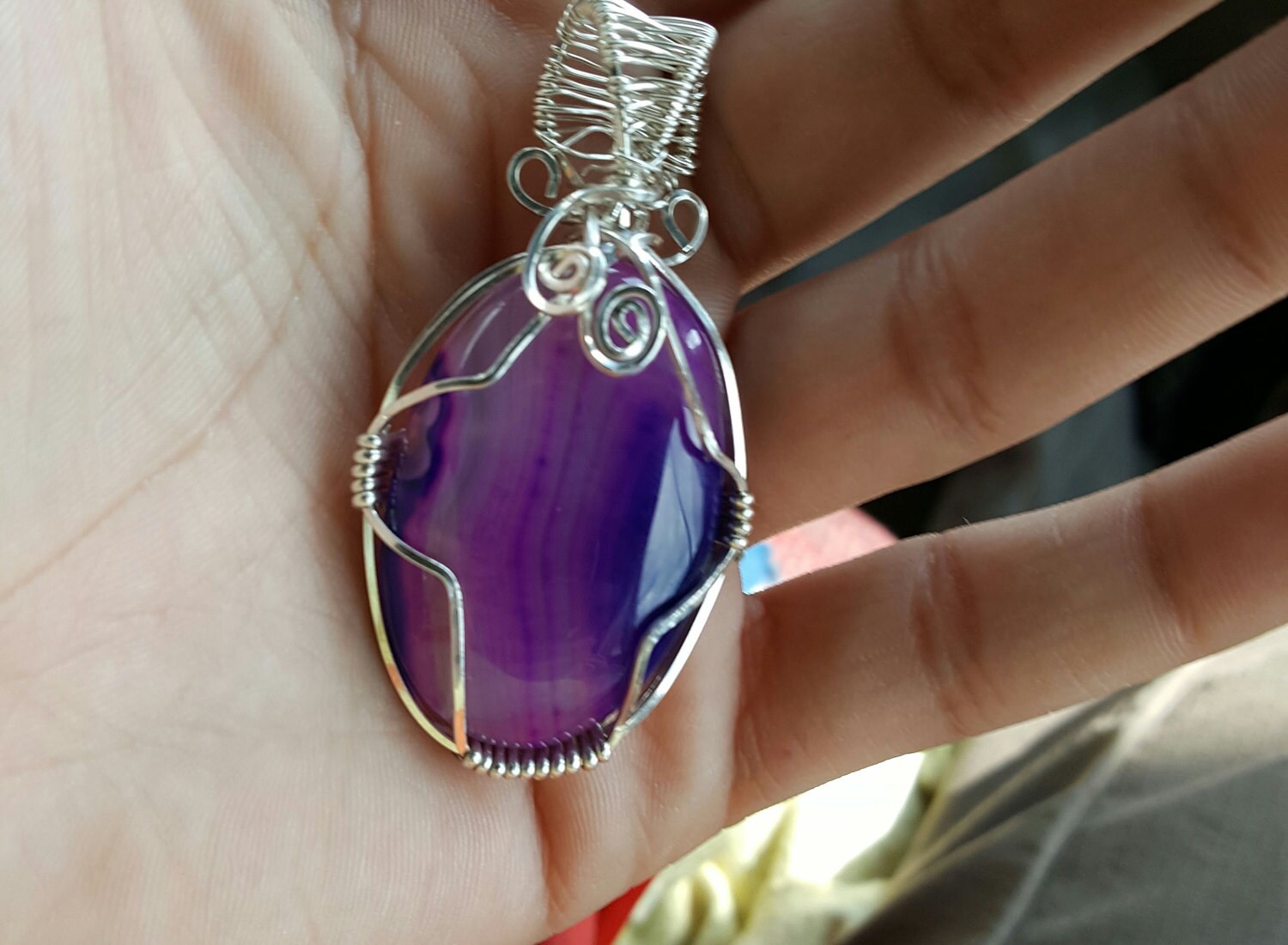 Marquise, What type of Jewlery do you mainly make?
My favorite type of jewelry to make includes lots of color and cooridination which I am going to have a future blog post about how I learned how to bring out the colors in particular items such as art work using frames and matting and how I took what I learned in the art of Custom Framing and applied it to wire work jewelry. 
I love making wire work jewelry. 
I love making jewelry that incorporates drilled as well as undrilled crystals and other minerals, shells, fossils, etc.  
I love to make my own chains...link by link...for my pendants so that each pendant's charm and beauty is really framed by the color and shine of the beads or combination of beads that really bring out the natural color from the stones that I capture in copper, bronze, antiqued copper and bronze as well antiqued silver, and regular silver wire.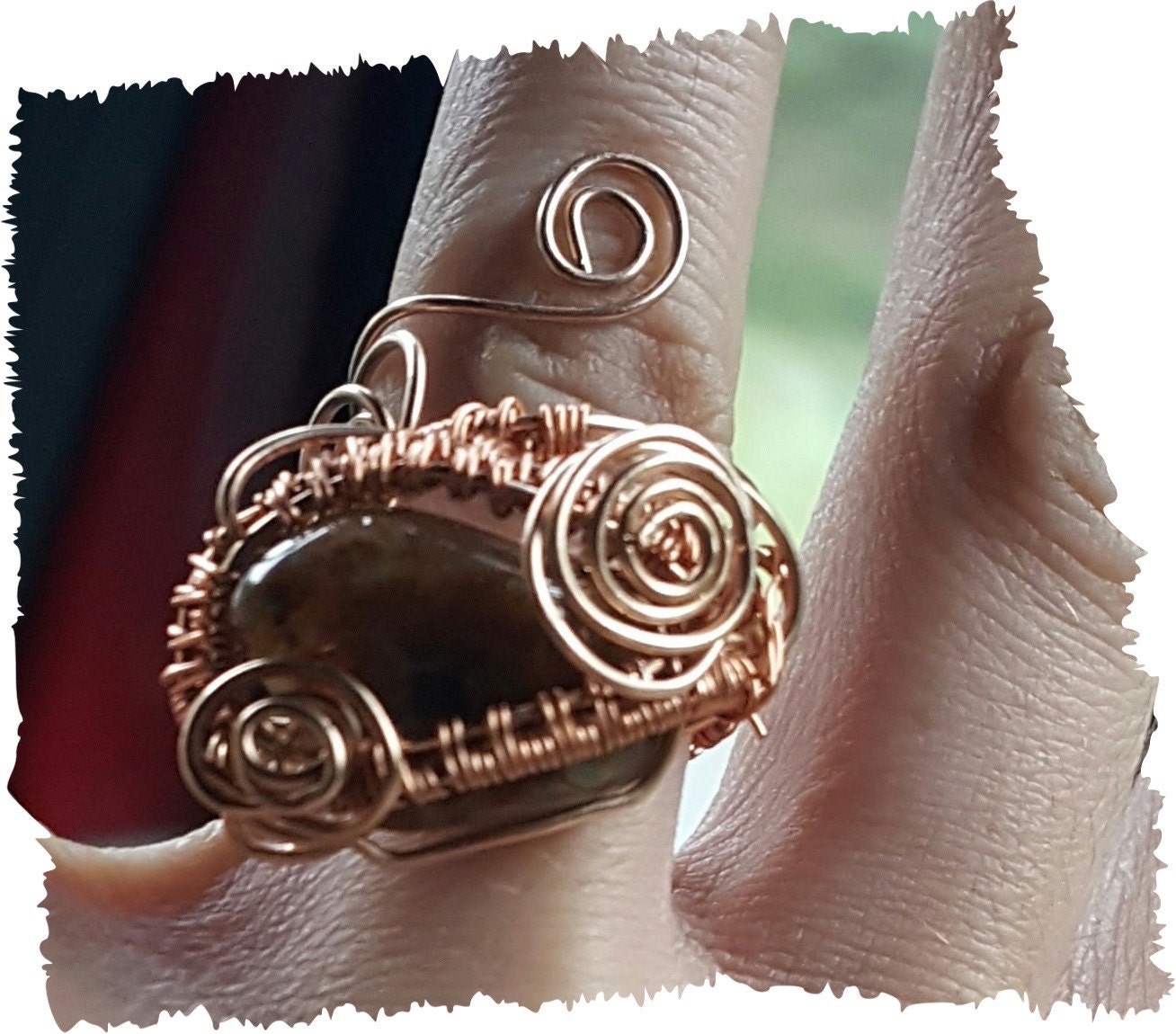 Collateral Damage: Say GoodBye to Hours of Hardwork ....Our Place to Mourn Pieces handled too Hard:
This Month's Piece: 
Heartshaped Bloodstone wrapped in Bronze wire.  I loved the way this turned out until I began to make the chain and that's when the chain didn't flow as smoothly as I wanted so I became inpatient and just squeezed the bail thinking I could get it to stay where I wanted to  hang on the chain but I squeezed just a little too hard and the bail was squeezed shut.. Unfortunately I was forced to get out the wire cutters and take this piece apart so the Bloodstone Heart remains naked amongst the other unwrapped stones in my case.  Collateral Damage....R.I.P. My Bloodstone Heart!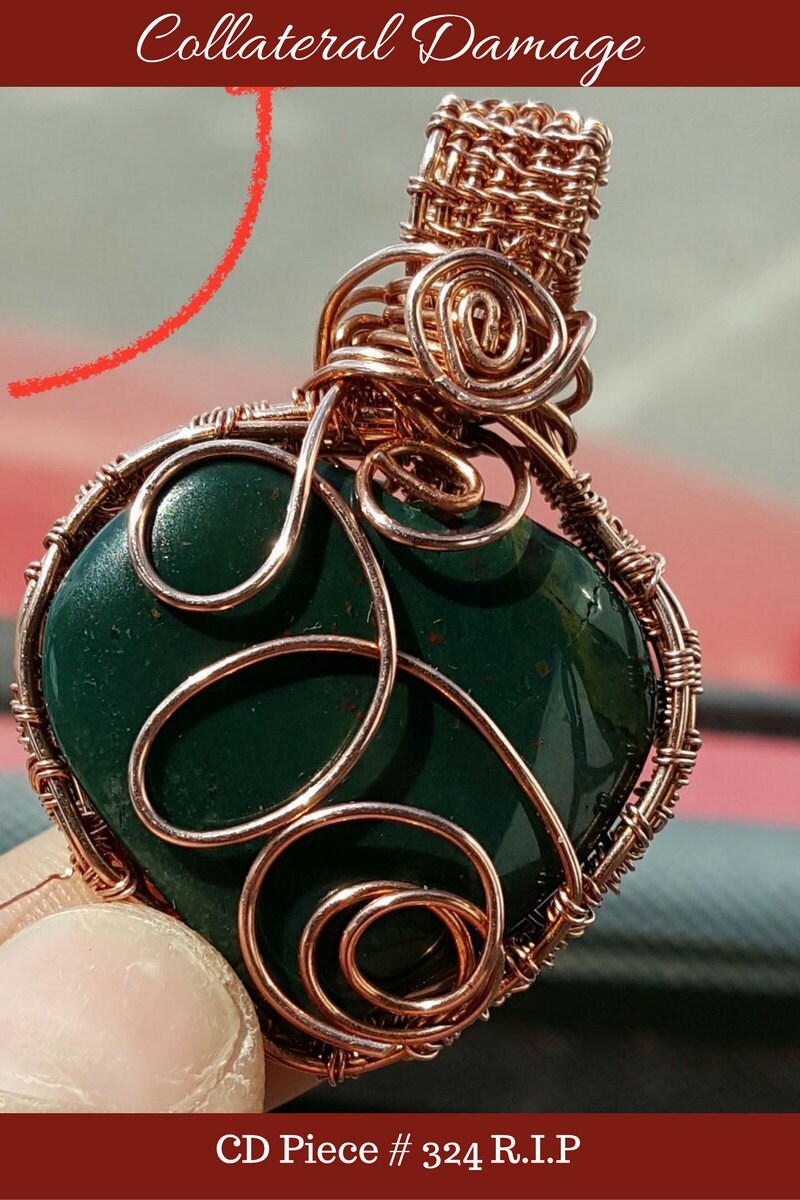 It was a pleasure introducing myself to all of you and thanks to every single person, who read, scanned through or even just looked at the pictures.  I humbly accept every second you spend of your time giving me the time of day.  IT means the world to me.  I love you all and I put all of that love in everything I make.  Please continue to come and check me out as I continue to post over 40 items day by day...editing photos, writing descriptions, doing math to come up with prices, keeping inventory, writing tags, keeping up with social media, etc.  This Etsy stuff is no easy task and it takes dedication. Dedication that I was blessed with. So again thanks for your time and God Bless You! 
With Love, Marquise